Social Services
Organization and Practice of Tama Dôhôkai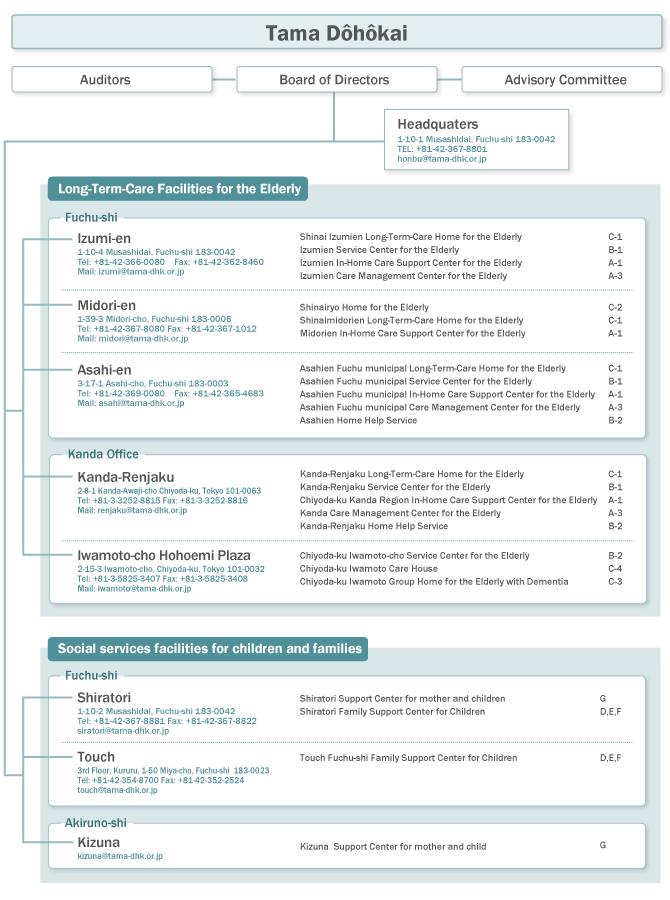 Click here for to see the Detail drawing. (PDF:835KB)
Main social services
■Social services for the Elderly and their Families
★Hotline for Immediate Consultations
A-1
In-home Care Support Center for the Elderly
A general hotline for persons aged about 65 years and older and their families.
24-hour, 365-day hotline for problems concerning care for the elderly and general issues.
A-2
Regional Support Center
A general hotline for persons with concerns about care or daily life of the elderly and users of Long-Term-Care preventive services.
A-3
Care Management Center for the Elderly
A hotline for developing Long-Term-Care insurance benefit plans.
★For the elderly in their own homes
B-1
Service Center for the Elderly
Provides day services to the Elderly who live at home and spend days at support or care Centers to engage in health-related activities, hobbies, and other leisure activities to promote mental stability and the Elderly who stay at facilities for short period of up to about one week for support with meals, bathing, and so on.
Performs meal delivery services for the Elderly who live alone and senior couples who have difficulty cooking and provides regional day services such as hobby and life-purpose classes, health checks, and exercising at regional culture centers and public cafeterias.
B-2
Home Help Services
Home helpers visit homes to provide assistance with daily activities such as bathing, toileting and meal preparation.
★The Elderly Who have Problems concerning Daily-Activities
C-1
Long-Term-Care Home for the Elderly
A place for people who have trouble living on their own to live. Provides full support including from meals and bathing to rehabilitation to seasonal events.
C-2
Home for the Elderly
Support for the Elderly who are generally able to perform day-to-day activities on their own. Some residency conditions apply.
C-3
Group Home for the Elderly with Dementia
A site for care of the Elderly with dementia in a home-like environment with only a small number of residents.
C-4
Care House
A barrier-free residential facility for the Elderly who feel insecure about certain activities such as meal preparation.
Provides support such as meals and bathing and general consultations.
■Social services for household with children
★Hotline for Immediate Consultations
D
Consultation
Responds to inquiries concerning various issues including child rearing and care as well as consultations from children.
★Services for Persons who Want to Derive Greater Pleasure from Enjoy Child Rearing
E
Child Rearing Support Service
Shiratori has a regional social exchange forum and Touch has a site for unstructured activities between parents and children.
Shiratori holds parent-child events an open rooms and Touch holds events such as spot time.
Various course and lectures are held depending on the season.
★For Persons Seeking Childcare
F
Child Rearing Support Service
Shiratori provides "Twilight Stay Service".
It is temporary childcare service from 5:00 to 10:00 p.m.
"After-Care Service" is caring for children when recovering from a illness.
Touch provides "Refreshing Childcare".
It is short-term childcare services to give parents a break.
The Family Support Center provides mutual child caring support within the region in Fuchu-shi.
★For Persons with problems of Concerns regarding Mother and Child Issues
G
Support Center for mother and child
Provides a safe and secure place to live for mothers and their children and provides specialized support as necessary.
Provides total support for independent living from basic day-to-day support and childcare assistance to employment assistance for mothers and follow-up support after leaving the facility.